Posted by: Terrytunes
2008 Fall Schedule - (Frederick) Historical Piano Concerts -
07/16/08
11:02 PM
Benita Meshulam
will be performing in the opening concert on Sunday, 31st August.
Presenting "Chopin and Spain". Three sonatas by Scarlatti; four pieces from Iberia by Albéniz; a Chopin Mazurka and an Impromptu; and Manuel de Falla's Fantasía Bética performed on the
1877 Erard
Hope to see some of our local members in attendance.
Benita's performance was wonderful although I listened in on some conversation around the piano after her performance by a couple of guests who felt the piano she had chosen was not suitable for her musical selection and therefore did not bring out the true musical tones.
I did manage to catch a few seconds of John Citron playing after the concert.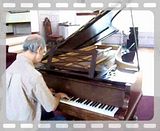 Many thanks to Bonita for a truly enjoyable performance.